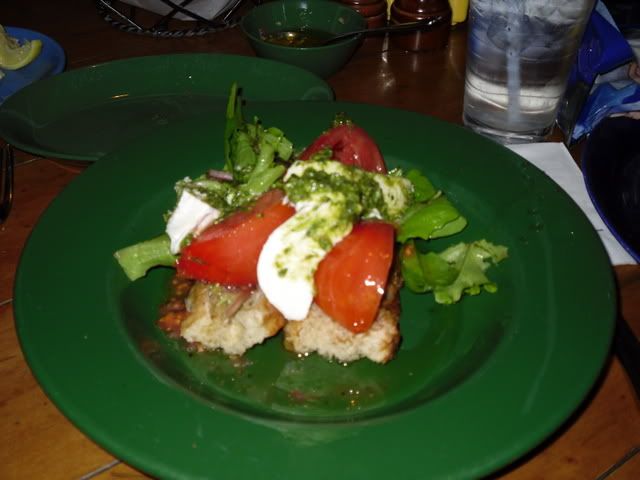 Buffalo Mozzarella & Tomato Panzanella Salad
Spoodles, Boardwalk Resort
Croutons:
4 each 1 1/2 inch square, grilled focaccia bread. (
you can toast them in oven, if no grill
)
Salad:
3 wedges, Fresh Buffalo Mozzarella or any fresh mozzarella will work
3 wedges ripe tomatoes
Basil Vinaigrette:
1 shallot, finely chopped
2 ounces basil, chopped
6 ounces white balsamic vinegar
18 ounces olive oil blend
kosher salt and black pepper, to taste
Chop shallots and basil separately. In a small bowl place the vinegar and chopped shallots. Slowly add the oil while stirring briskly, with a whip. Add the chopped basil and season with salt and pepper.
Plating:
1 ounce mixed greens or and leafy blend
1 portion tomato (
3 pieces
)
1 portion Buffalo Mozzarella (
3 wedges
)
4 croutons
2 ounces Vinaigrette
1 teaspoon Pesto (
you can buy this in the store
)
On the serving plate, place the croutons. On top of the croutons place a small amount of mixed greens. In a small bowl, toss the tomatoes in 3ounces of the vinaigrette. Season with salt and pepper. Place the tomatoes on top of the mixed greens and pour all of the vinaigrette, evenly over the mixed greens and croutons. In a small bowl, toss the mozzarella cheese with a little bit of pesto. (
enough to coat the cheese evenly
). Place the cheese on top of the salad. Ready to serve.