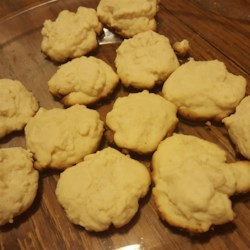 Greek Butter Cookies
Kouzzina by Cat Cora, Boardwalk Resort
2 1/2 cups (5 sticks) unsalted butter (
defoamed/dewatered, cooled
)
1/2 cup powdered sugar
2 egg yolks
1 teaspoon vanilla extract
1 jigger brandy, cognac, or whiskey
2 tablespoons lemon or orange juice
1/4 teaspoon baking soda
1 cup walnuts, toasted, coarsely ground
about 6 cups flour
2 pounds cocoa powder
paper cups
Beat butter until light and fluffy (
at least 30 minutes
); add sugar, beat well; add egg yolks, beat well; add vanilla, cognac, lemon juice/soda, beat well; add walnuts; add flour until dough is medium tight (
not soft, not stiff; do not over knead flour)
. Pinch off a 1 and a 1/2 inch piece of dough and form into desired shape (
crescent, triangle, round, star
); dimple top.
Place on cookie sheet and bake at 350 for 20 minutes, or until light golden brown. Remove from oven and sprinkle very lightly with cinnamon or ground clove. Layer cookies on bed of cocoa powder top and bottom, let cool and set for at least 30 minutes (
can store in sugar in air tight container for days
).
Place each cookie in a paper cup and sprinkle again with cocoa if necessary. Can double recipe. Yield varies with size. Hint: Save powdered sugar in plastic bag, use with butter for the next batch.