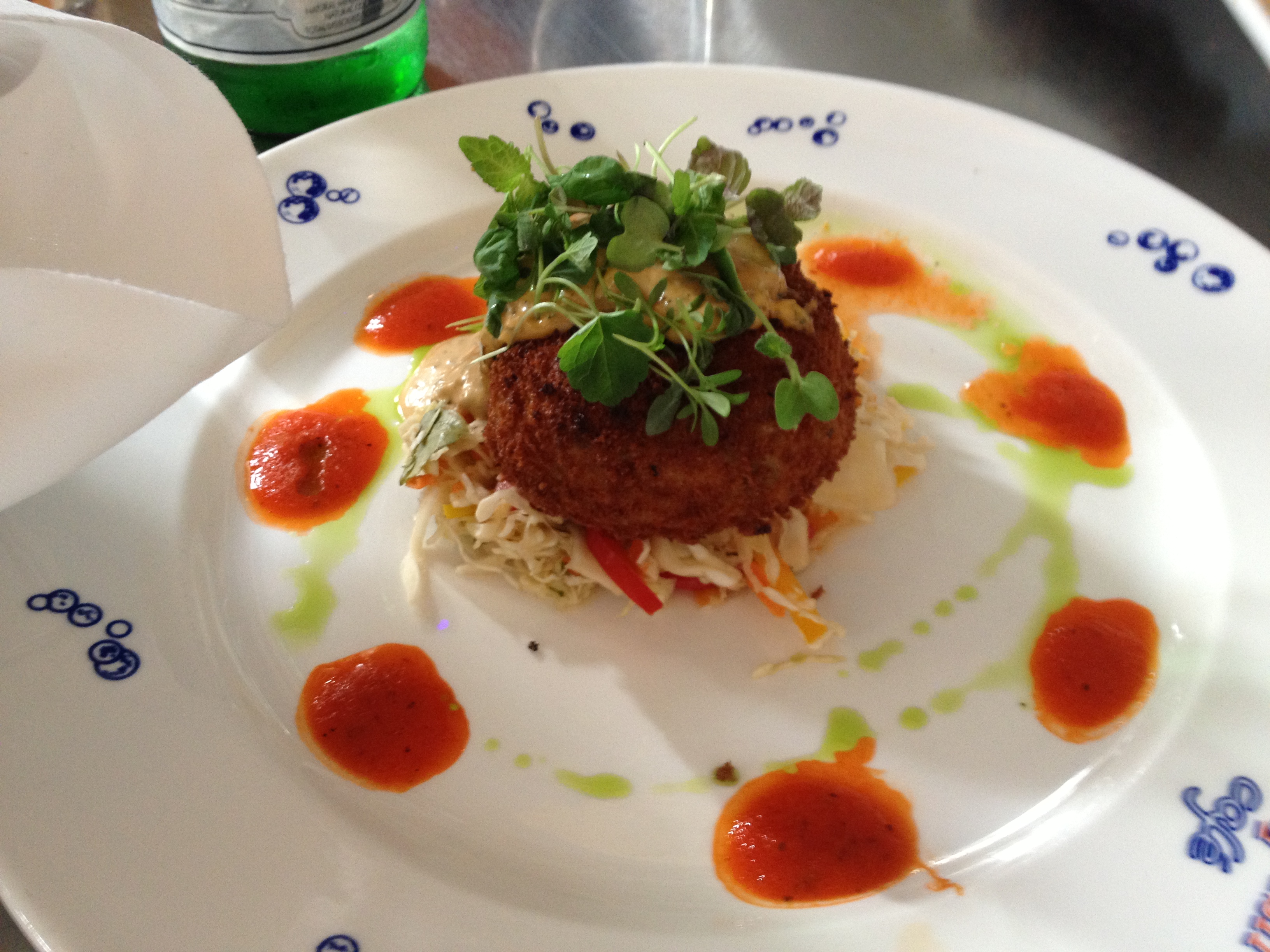 Crab Cakes
with Ancho Chile Remoulade
Flying Fish Café, BoardWalk Resort
Yield: 28 small crab cakes
6 cups soft fresh bread crumbs, divided
1 pound lump crab meat, picked over
1/2 cup finely chopped red onion
1/2 cup each finely chopped red and green bell pepper
1/2 cup finely chopped green onions
1/2 cup mayonnaise
1 poblano chile, trimmed, seeded, and minced
4 large egg yolks
2 tablespoons fresh lemon juice
1 tablespoon chopped fresh parsley
1 3/4 teaspoons salt, or to taste
1 1/4 teaspoons freshly ground pepper, or to taste
1/8 teaspoon cayenne pepper
1 cup all-purpose flour
5 large eggs
1/2 cup vegetable oil for frying
Ancho Chile Remoulade (
recipe below
)
1. In a large bowl, stir together 2 cups of the bread crumbs, the crab, red onions, bell peppers, scallions, mayo, poblano chili, egg yolks, lemon juice, parsley, 3/4 teaspoon salt, 1/4 teaspoon black pepper, and cayenne.
2. Form 28 crabcakes, using about 2 tablespoons of the crab mixture for each, shaping to about 1 1/2 inches in diameter.
3. On a plate, stir together the flour and the remaining 1 tsp. salt and pepper. In a shallow bowl, with a fork, lightly beat the eggs. Place the remaining bread crumbs on a plate.
4. Dip each crabcake into the flour, shaking off the excess, then into the egg, shaking off the excess, and finally into the breadcrumbs, shaking off the excess. Place the crab cakes on a baking rack.
5. In a 12-inch skillet, heat 1/4 cup of the oil over medium-high heat until hot but not smoking. Add the crab cakes, in batches, and cook for 3-4 minutes on each side, or until browned and crisp. As the crab cakes are cooked, remove them with a slotted spoon and drain on paper towels; keep warm. Repeat to cook the remaining crab cakes, adding more oil as necessary. Serve with Chili Remoulade.
Ancho Chili Remoulade:
2 teaspoons chili powder, preferably ancho
2 teaspoons water
1 1/2 cups mayonnaise
1/4 cup finely chopped red onion
1/4 cup finely chopped dill pickles
2 tablespoons drained capers, chopped
2 tablespoons finely chopped flat leaf parsley
2 tablespoons finely chopped fresh tarragon
2 tablespoons snipped fresh chives
2 tablespoons fresh lemon juice
1/4 teaspoon salt, or to taste
1/4 teaspoon cayenne pepper, or to taste
1. In a small bowl, combine the chili powder with the water and let stand for 10 minutes.
2. In a mixing bowl, combine the chili mixture with the remaining ingredients.
3. Use immediately, or store, covered and chilled.