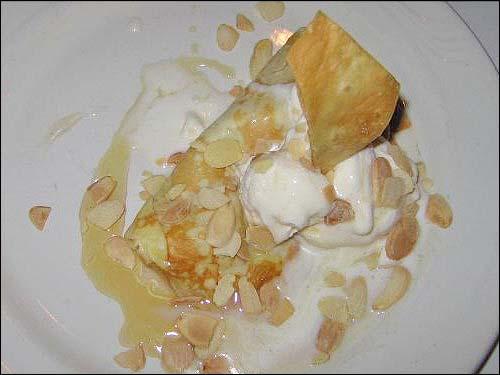 Apple Crepes
Restaurant Marrakesh, Morocco Pavilion, EPCOT
Yield: 6 to 8 crepes
Crepes:
2 eggs
1 cup flour
1/2 teaspoon salt
1 cup milk
2 tablespoons butter, melted
Filling:
2 cups apple pie filling
Sauce:
1 cup honey
1 tablespoon cinnamon
1 tablespoon butter, melted
To Serve:
vanilla ice cream
Preheat the oven to 350 degrees. Butter a baking sheet and set aside. Heat a 5 or 7 inch skillet over medium heat. Combine eggs, flour, and salt in a large bowl. Add just enough of the milk to make a smooth paste. Add the remaining milk, stirring until there are no lumps. Whisk in the melted butter. Ladle or pour just enough crepe batter to cover the pan with a think layer (about 1/4 cup) and quickly rotate the pan to distribute batter evenly. Cook over medium heat until the edges of the crepe curl up and brown slightly, about 1 to 2 minutes. Using two spatulas, flip it over and cook the other side for 1 to 2 minutes. Remove to a plate. Pour batter into pan for the next crepe.
Meanwhile, spoon 1/4 cup apple pie filling down the center of the cooked crepe. Roll up the crepe and place it on the prepared baking sheet. Continue preparing crepes in this fashion until the batter is gone. Add the hot melted butter to the honey and cinnamon and stir with a fork. Pour the honey mixture over the crepes. Bake 5 to 8 minutes, or until the crepes are warmed through. Remove from the oven and transfer to individual plates. Drizzle crepes with pan sauce and serve with vanilla ice cream sprinkled with a bit of cinnamon.