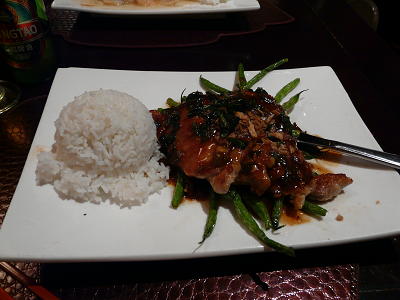 Pork Loin With XO Sauce
Nine Dragons Restaurant, China Pavilion EPCOT
Yield: 4 servings
1 pound boneless pork loin, cut into thick slices
3 tablespoons vegetable oil
1 whole green onion, diced, for garnish
steamed rice for serving
Marinade:
1 1/2 teaspoons salt
1 1/2 teaspoons dried chicken base
1 tablespoon each: Asian cooking wine, cornstarch and flour
1 egg
1 tablespoon sesame oil
white pepper to taste
XO Sauce:
3 tablespoons cornstarch
1 1/2 teaspoons chicken boullion
3 teaspoons soy sauce
1 1/2 teaspoons oyster sauce
2 tablespoons XO Paste (
seasoning paste sold in Asian grocery stores
)
2 tablespoons oil
1 tablespoon chopped garlic
2 tablespoons Asian cooking wine
1 tablespoon chicken bouillion
1 tablespoon sugar
white pepper to taste
1 tablespoon sesame oil
2/3 cup of water to thin sauce, if needed
Mix all marinade ingredients together. Clean and pat the pork loin dry. Cut pork into 1/2 inch thick slices. Marinate the pork in the refrigerator for at least 30 minutes.
Make XO Sauce and keep warm.
Heat vegetable oil in a frying pan. Saute pork slices about 5 to 7 inches until golden brown. Plate pork slices in a stack on a serving plate. Pour XO sauce over pork slices. Garnish with green onions. Serve with steamed rice and stir-fried green beans.
XO Sauce:
In a small bowl, dissolve 3 tablespoons cornstarch in the chicken broth. Set aside. In another small bowl, mix soy sauce, oyster sauce and XO paste. Set aside.
Heat the vegetable oil in saucepan. Add garlic and saute until golden. Stir in XO sauce from above, then cooking wine. Gradually stir in chicken bouillion, sugar, pepper to taste and sesame oil. Dissolve 3 tablespoons cornstarch in 1/4 cup chicken broth. Once mixture begins to bubble, stir in cornstarch mixture to thicken. (you may need to add water as the picture shows it being like a thick sauce texture - not a gravy texture). Strain, set aside, keep warm.