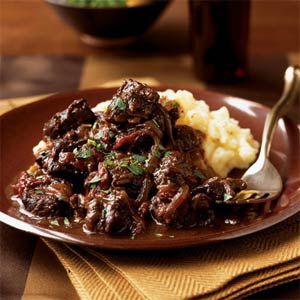 Braised Beef Tips
50's Prime Time Cafe, Hollywood Studios
2 ounces olive oil
6 pounds
beef tips
1 large onion, small diced
1/4 cup
chopped Italian parsley
1 teaspoon
minced garlic
2 bay leaves
1 cup
dry red wine
2 1/2 cups
beef stock,
2 pounds
chopped plum tomatoes
to taste
kosher salt
to taste
ground black pepper
4 teaspoons
fresh chopped rosemary
Heat oil in heavy Dutch oven over high heat. Add enough beef just to cover bottom of the pan and brown about 5 minutes. Remove beef with slotted spoon and place in bowl, repeat with remaining beef in same size batches. Reduce heat to medium and add onion and parsley. Cook until golden brown stirring frequently. Add garlic and bay leaves, return beef and stir to coat with ingredients. Add wine and bring to boil, scraping up any browned pieces. Simmer about 10 to 15 minutes. Add beef stock and simmer 10 more minutes. Add tomatoes and rosemary. Reduce heat to low, cover and cook until tender, stirring occasionally, about 1 1/2 hours. Season with salt and pepper to taste at the end.